Disney's Lorcana Proxy Cards at an Affordable Price
Our Lorcana proxy cards use the latest printing technology, so they fit in perfectly with your existing collections. These Lorcana cards are printed and cut to the exact dimensions of a normal Lorcana card. We are constantly adding new cards, so check back often for the latest.
Showing 1–12 of 25 results
Disney Lorcana is a trading card game where players use various cards to create Disney character images and collect lore to win the game. The first edition, "The First Chapter," is now available for purchase.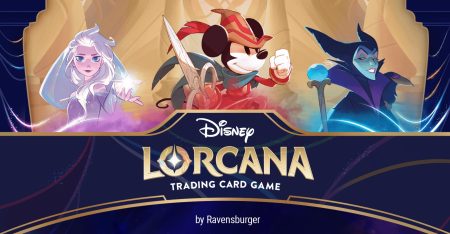 Lorcana Frequently Asked Question
More About Our Lorcana Cards
Disney Lorcana Trading Card Game is an enchanting new experience that invites players to delve into a world rich with magic and adventure, bringing beloved Disney characters to life like never before. Set in the fantastical realm of Lorcana, this TCG (Trading Card Game) offers a unique blend of strategy and storytelling, allowing players to create their own tales and team up with iconic figures from Disney's vast array of stories.
With each release, players can expect a curated set of beautifully designed cards, featuring detailed illustrations and intricate gameplay mechanics. As players collect and trade these cards, they can construct powerful decks, strategize with their team, and rise to the challenge in exciting duels and tournaments. The Disney Lorcana Trading Card Game is not only about competition but also about the joy of storytelling and the nostalgia of connecting with Disney's timeless characters.
Stay tuned for exclusive information, product lists, and exciting updates directly from the creators of Disney Lorcana. Whether you are a seasoned TCG player or new to the world of trading card games, Disney Lorcana offers a welcoming community and a wealth of resources to help you get started. From detailed how-to-play videos to comprehensive card lists, the team behind Lorcana is dedicated to providing players with all the information and support they need.
Be sure to sign up for emails and follow Disney Lorcana on social media to stay in the loop and be the first to know about new releases, upcoming events, and special promotions. As the future unfolds, Disney Lorcana Trading Card Game is poised to become a beloved addition to the collections of Disney fans, TCG enthusiasts, and players around the world.
With ProxyKing, it's never been easier to start your journey in Lorcana. Share in the magic, build your deck, and become a part of the ever-growing Lorcana community. Your adventure awaits; it's time to dive into the rich world of Disney Lorcana Trading Card Game!