Let's take a short break from discussing MtG Proxy cards, and instead talk about MtG Arena for a moment.
What is MtG Arena?
According to Wizards of the Coast, MtG Arena was created for beginners and long-time players of Magic alike.
It's a new way to play, and you can unlock powerful decks right off the bat.
MtG Arena continues to evolve, but free codes that unlock content in the game has been around since the beginning. Scroll ahead for the complete list of codes.
These free codes give you free packs, cosmetics, and even XP.
New codes are added from time to time, so be sure to bookmark this page and check back often!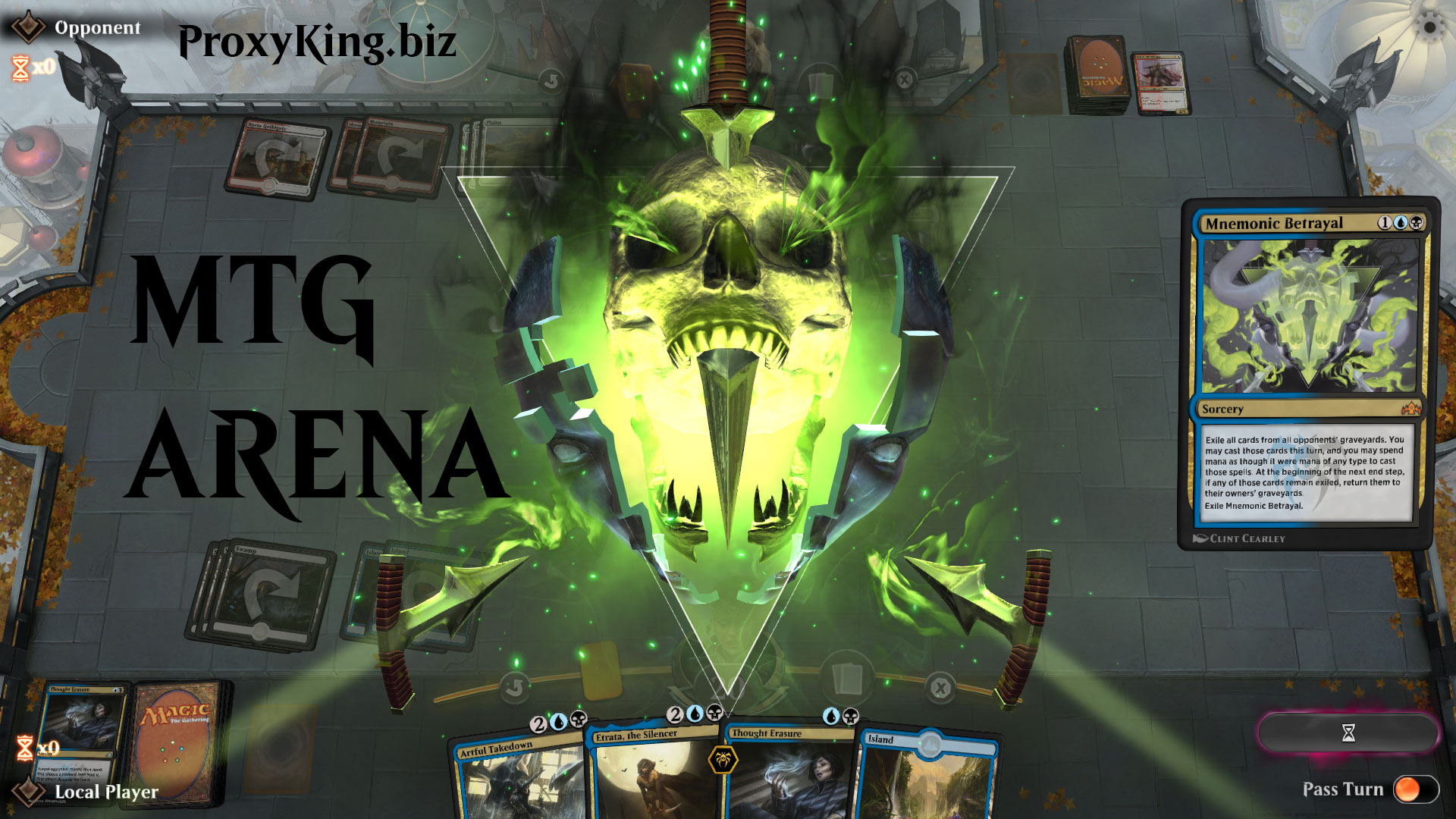 How to Redeem Arena Codes?
When you are in the game, look at the top right corner of the screen for the Store Section. You can enter your codes there. Note that each code can only be redeemed once per account. Newbies will want to wait to open booster packs until they've obtained all the 'New Player Experience Decks.' This is because you won't be able to add duplicate cards to your collection.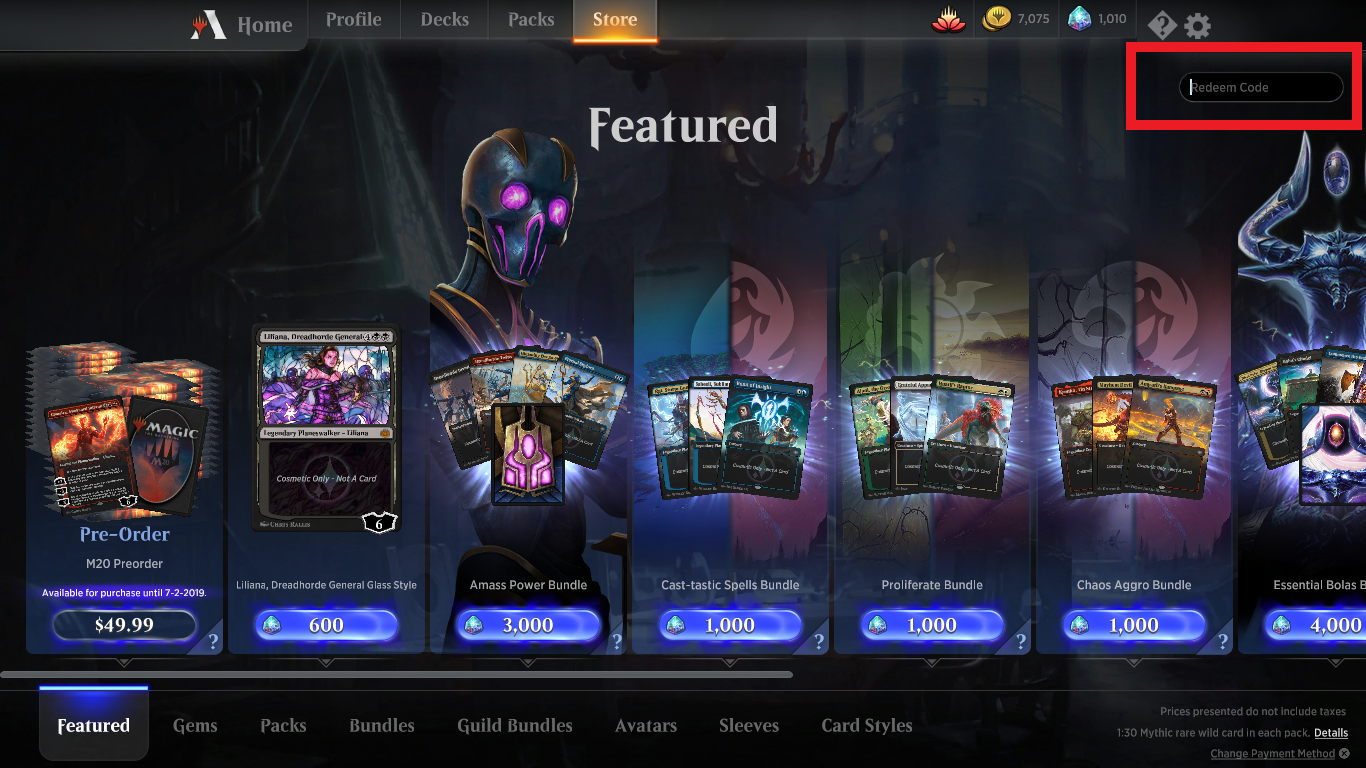 PlayTheros: 

Three packs of Theros Beyond Death

PlayIkoria: 

Three packs of Ikoria Lair of Behemoths

PlayM21:

 Three packs of Core Set 2021

PlayZendikar:

 Three packs of Zendikar Rising

TryKaladesh: 

One pack of Kaladesh Remastered

PlayKaldheim: 

Three packs of Kaldheim

PlayStrixhaven:

 Three packs of Strixhaven

PlayDND: 

Three packs of Forgotten Realms

PlayMID

: Three packs of Innistrad: Midnight Hunt

PlayVOW: 

Three packs of Innistrad: Crimson Vow

PlayNEO:

 Three packs of Kamigawa: Neon Dynasty

PlayNeoAlchemy: 

Three packs of Kamigawa: Neon Dynasty Alchemy

PlaySNC: 

Three packs of Streets of New Capenna

PlayHBG

: Three packs of Alchemy Horizons: Baldur's Gate
ParallaxPotion: 

Revitalize card and card style

SuperScry:

 Opt card and card style

FoilFungus: 

Deathbloom Thallid card and card style

ShinyGoblinPirate:

 Fanatical Firebrand card and card style

SparkleDruid: 

Druid of the Cowl card and card style

OverTheMoon: 

Arlinn, Voice of the Pack card style

InnerDemon: 

Ob Nixilis, the Hate-Twisted card style

ShieldsUp:

 Teyo, the Shieldmage card style

WrittenInStone: 

Nahiri, Storm of Stone card style

EnlightenMe:

 Narset, Parter of Veils card style

FNMAtHome:

 Two random cosmetics

ZendikarLands: 

Three random full-art basic lands from Zendikar Rising

RockJocks

: Lorehold College card sleeve

DebateDuelists: 

Silverquill College card sleeve

MathWhizzes

: Quandrix College card sleeve

SwampPunks

: Witherbloom College card sleeve

ArtClub

: Prismari College card sleeve

InformationIsPower: 

Obscura card sleeve

CrimeIsAnArtForm: 

Maestros card sleeve

AlwaysFinishTheJob

: Riveteers card sleeve

FunIsntFree: 

Cabaretti card sleeve

ReadTheFinePrint: 

Brokers card sleeve
PlayAlchemyNewCapenna – 3 free Alchemy New Capenna Packs
On top of the above codes, you can find codes within pre-made decks and pre-release packs that you buy. 
Wizards of the Coast like to offer free codes with every Standard set release, so keep an eye out once a new set comes out. 
Mobile users can currently only redeem the codes via a web browser through the following link and logging into your Wizards account: https://myaccounts.wizards.com/login?redirectTo=%2Fcode